TEACHING/SPEAKING/OTHER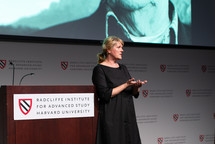 Karmina Šilec is also active in the field of education. She works as an artistic adviser for choral music, gives lectures to conductors and is often lecturer at universities and symposiums around the world, both for music and theatre studies. She is often invited to give master classes for conducting and lead Choregie workshops.
Her fields of specialty are: The Programming Of Contemporary Music Projects, Mental And Physical Training For Singers and Actors, Repertoire Building, Choregie – progressive and innovative art, Music and Movement, Mental Skills Of A Conductor, Ethnic Vocal Music. She is the director of the Vocal school Carmina Slovenica and was Professor for choral conducting at the University of Maribor (Slovenia) for several years. In numerous lectures and articles she participates in the contemporary discourse on choral music and performing arts and their education.
Her credo in this filed is encompassed in her book NOLITE TACERE – Translated in music, and in several articles she wrote.
lectures/workshops at symposiums/conferences
International Symposium on Singing and Song (CA), IFCM Symposium for Choral Music (KR), Europa Cantat (ES, BE, HU), Estonian choral federation (EE), Ministry of Education in Singapore (SG), Lithuanian Choral federation (LT), Flemish Choral Federation (NL), World choir games (AU, RU, KR), Klemetti Institute (FL), Spanish choral federation (E), National choral convention Mexico (MX), World Symposium for Children's choirs Vancouver (CA), World choir games Sochi (RU), Choir Games Xiamen (CN), etc.
speaker at Congresses
Sharing the Voices 500 (CA), Clasicall:Next Rotterdam (NL), International Symposium Donne in Musica (IT), Tenso (European professional chamber choirs association) (NL), Symposium Voice (CA), World Conference for Choral Music (HK), Osterreichises Chorkongress (AT), Conductor's Conference IFCM (VE), Voices of Origin/IFCM Ethnical choral music congress (PR), etc.
lectures at Universities
Harvard University (USA), University of Maribor (SI), University for Music and Performing Arts Graz (AU), University of California (USA), Stockholm university (SE), University of Siauliai (LT), Music Academy in Zagreb (CR), Theatre Academy Saint Petersburg (RU), Music Academy Ljubljana (SI), University of Viña del Mar (CL), etc.
curation
International festival Choregie 2010 – 2012
Concert series Attacca 2008 -
Concert series Choregie 2012 -
New music theatre competition, 2012
International festival Attacca, 2004 - 2018
jury
As a jury member at choral conducting competitions and choir competitions she has judged more than 50 competitions worldwide, among them also the prestigious Eric Ericson competition for choral conductors, Grand Prix Europe, International competition Gallus, Tampere festival, Grand prix of nation, World choir games, etc.
adviser
a member of several artistic committees and commissions (Commission for ethnical and multicultural music, IFCM (International Federation for Choral music), artistic committee of International competition Gallus Maribor, member of Choir Olympics Council, etc.
editor
CS Editions, Music collection ATTACCA (JSKD), Consultant for music of Central Europe for Earthsongs Publishing (USA).