CONDUCTING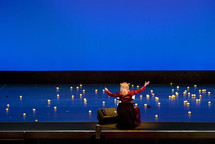 Karmina Šilec took her degree at the Music Academy in Zagreb, Croatia. She first tried her hand as a conductor at the age of 16, later she was chef-conductor of Carmina Slovenica, ROTOVŽ and ensemble !Kebataola!. She has performed on stages worldwide, collaborated in various international projects, made recordings for many radio and television stations. Within the uncompromising frame of the highest standards she continuously proves that vocal ensembles can be outstanding, versatile artistic bodies - superb instruments which are constantly opening up to new creative spaces.
Karmina Šilec has projects with various companies, opera houses and ensembles worldwide, among them Basel Opera, Slovenian National Opera and Ballet Maribor, Radio Slovenia Symphony Orchestra, Slovenian National Project Choir, Orchestra Chorus Instrumentalis, Lithuanian chamber choir, National chamber orchestra of Chile, Big Band and Wind Orchestra of the Slovenian Army, ansambel STOP, Musica Cubicularis, Mexican national choir, National Youth Choir of Carinthia, and many other. As a choral conductor she also collaborated in several operas, oratorios and other works. Karmina Šilec has brought a characteristic flair and integrity to the direction of vocal ensembles. Her main aim is a continual search for new music and new fields of work: from early music with a special focus on medieval music, ethnic music with extended vocal techniques to the latest avant-garde repertoire which is her major interest.
As a conductor Karmina Šilec has received several highest international awards and special recognitions, among them the International Robert Edler Prize for Choral Music for her exceptional contribution to the world choir movement, the Prešeren Found Award, The main Ford Award, Gallus award for outstanding achievements in the field of art, Golden Bird award for a creative approach to choral singing, as well as awards at international choral competitions: Kathaumixw (CA) - two first and two second prizes; the choir is proclaimed "The most outstanding choir of Kathaumixw 94"; Golden Gate (USA) - three first prizes and the audience award; Tampere (FI) best conductor of the competition, two golden stamps; International competition Gallus Maribor (SL) - golden plaquette, first prize, five special awards; Des Moines (USA) - two first prizes and a gold medal; Llangollen (GB) - first prize; Montreux (CH) - Prix OTM, Prix de Jury; Kalundborg (DN) - first prize with the maximum possible number of points awarded; etc.
"What is particularly fascinating is the sound itself being delivered by the singers in a creative process in which changes of registers, various vocal techniques of throat singing, natural timbre and cultivated belcanto articulation seem so natural and simple as if it were a spontaneous game, an everyday form of communication. The result is some sort of a superb 'new age', an absolute musical experience which crosses the borders of cultures, nations, beliefs and merges with the universal human soul into a harmonious organism. Karmina Šilec crossed the borders of spiritual and cultural limitations, of exclusiveness and prejudice built across centuries, and brought the (musical) world back into the sphere of unity, togetherness, of what is warmly ours. " "Performances of her ensembles can best be described as virtuosic: with impeccable intonation, clear sound, brilliant movement, free of obstacles, almost auto-hypnotic – defined by a flow of energy of an utterly disciplined and ambitious ensemble."
Her ensembles and projects have been performed on stages and festivals of the highest esteem, such as the Ruhrtriennale (DE), Prototype Festival NYC (USA), Festival d'Automne á Paris (FR), Holland Festival (NL), Moscow Easter Festival (RU), Dresdner Musikfestspiele (DE), Golden Mask (RU), Melbourne Festival (AU), Operadagen Rotterdam (NL), Auditorium, Rome (IT), Steierischer Herbst (AT), Tokyo Metropolitan Art Space (JP), St. Petersburg Philharmonic Hall (RU), Polyfollia (FR), Hong Kong Cultural Centre, Teresa Carreño Theater (VE), Teatro Colon (AR), Esplanade (SG), etc., as well as for EBU and Eurovision.
As a jury member at choral conducting competitions and choir competitions she has judged more than 50 competitions worldwide, among them also the prestigious Eric Ericson competition for choral conductors, Matej Hubad conductors competition, several Grand Prix Europe competitions, International competition Gallus, Tampere festival, Grand prix of nation, World choir games, etc.
She was a professor of conducting at University of Maribor.