BABA Catalog and Colossal Balkan Fiction
book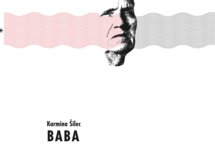 BABA is a canvas on which the contents of society's consciousness, its beliefs, the history and the present, knowledge and delusions are projected. It reminds us of the narrow-mindedness of the society that condemns every step and every action; it sang praises to women with a vocabulary adorned with the notions such as tradition, family, honour, and dignity, and hiding mythomania and misogyny behind them. It reminds us who created and buried the heroines Flora, Liljana, Suni, Lindita.
The Colossal Balkan Fictionbook of stories is a portrait collection inspired by the virdžinas – the women who take on a man's name and identity, wear men's clothes, do men's work, smoke, drink rakia, play the gusle ... and join the men's world. The stories talk about the otherness, the institution of sworn virgins, and about the dilemma whether becoming a manis an illusion, violence, or salvation.
The Catalog is a narrative journey through places and times that bend under the fruits of romantic Western imagination. Homer, the muškarača, the tobelia, the blind woman and Stana live in the region that today we call the Balkans. It creates an intuitive conceptual network between music, the Western view, sweet sorrow, hetero-romantic ideology and Adam's rib, phallocentric gravity and virginity, the way humanity has dealt with it for centuries.
POGLED V KNJIGI / look in
cactus
My father loved to carve. He had a talent for making plates, spoons, chests, trays, birds and hinds, everything that could be carved out of wood.
When I was about eight years old, he carved something unusual. He made a hole to pull a leather strap through it. He then tied this strange product tightly around my waist. I was never allowed to take it off, only when he made a new, bigger one. It was a penis.
In my dream, my father is still cutting out these penises and they are getting bigger. He tightens them around my hips. Sometimes I am strapped with several leather belts. When I run out of space around my waist, he tightens these belts into my girlish breasts. They cut my skin till blood starts to flow. And wooden phalluses of various shapes and sizes project from me on all sides. I'm like a phallus cactus. A cactus dick.
That is when I run around the backyard of our homestead, adorned and strapped with those dicks, and I shout, "I'm Stana, I'm Stana. Captain Stana!"
And milk sprays from these wooden penises all around.
publisher: Založba Sanje
Collection: OTROCI slave
language: Slovene / English translation avaiable
also in AUDIOBOOK format
240 & 216 pages