Hewlett50 commission for new theatre piece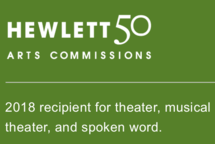 Karmina's new work BABA is the recipient of one of ten #Hewlett50 Commissions in Theater, Spoken Word, and Musical Theater. The Hewlett 50 Arts Commissions goal is to bring world-class art to Bay Area.
This grant to Kitka ensemble will support a collaboration on BABA, a choregie project inspired by "sworn virgins" of the Balkan.
Baba will be developed during Šilec fellowship at Radcliffe Institute for Advanced Study at Harvard University.
More here.