COLOSSAL BALKAN FICTION
audio book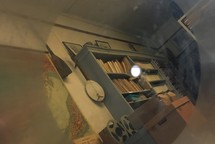 Karmina Šilec: Colossal Balkan fiction
creative team: Minca Lorenci, Tanja Lužar, Mojca Redjko, Danilo Ženko
KBF is a canvas on which the contents of the consciousness of our society, its fears, beliefs, doubts, states, questions, problems, pleasures, the history and the present, behaviors and nonsense, desires are projected.
KBF is also reminiscent of a deadacholicsocial narrow-mindedness that condemns every step and every action; it sang the last praises to the heroines with a vocabulary adorned with wonderful notions such as tradition, family, heroism..., and hid behind them the primitivism, mythomania, misogyny, as well as perversion and lies.
It reminds us of who created and buried the heroines – sworn virgins, virdžinas– Liljana, Suni, Lindita.
For him sleep is a special state of body and soul. He takes dreaming as a serious encounter with souls coming and going. "When you shut your eyes, they go off somewhere so you see things elsewhere. If you take dreams seriously, you avoid interpreting them. Because then you might cause evil, foreboding dreams come true," the little man tells you. For him, there is a clear difference between dreaming dreams and having them, and he uses both in his healing. He can see when someone's stomach "rumbling." He believes in power that allows one force to down another and the latter can resist the first force. He also knows all about magical liquids. In order to detect an infection, an illness, or the presence of evil in someone, he would run a hand over a sick person's crotch or below his belly and then sniff it.
expected realese, march 2021