choregie project by Karmina Šilec for Kitka recipient of New Music USA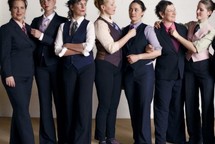 choregie project by Karmina Šilec for Kitka Inc. (California) recipient of New Music USA
New Music USA announced the selection of projects of New Music USA Project Grants. These projects demonstrate the imaginative, diverse, and high-quality work that New Music USA is dedicated to supporting.
New Music USA supports the sounds of tomorrow by nurturing the creation, performance, and appreciation of new music for adventurous listeners around the world.
Among other recipients are Bang on a Can, The American Opera Project,The Wooster Group, EMPAC – The Curtis R. Priem Experimental Media and Performing Arts Center at Rensselaer, Alonzo King LINES Ballet, Mark Morris Dance Group, etc..