Fortuna Won't Be Fauvel's Match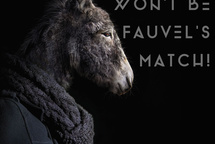 FORTUNA WON'T BE FAUVEL'S MATCH!
Flattery, Avarice, Vileness, Variability, Envy and Lechery
Music:
Lojze Lebič (1934): Fauvel '86
Excerpts from the work Roman de Fauvel (1310 – 1314)
Performing:
Vocal theatre Carmina Slovenica
Conductor: Karmina Šilec
Narrator: Vid Valič (from the tape)
Musicians: Nino Mureškič, Žarko Ignjatovič, Živa Horvat, Nadja Stegne, Jasna Drobne
Fortuna Won't Be Fauvel's Match! is based on a gothic allegorical verse romance in which the central metaphor for moral decay and decadence is an ambitious horse/ass. The main character – Fauvel – is an incarnation of sin, irrationality, unreliability, dominance, flattery. Fortuna Won't Be Fauvel's Match! mocks human egotism, hedonism, hypocrisy and excesses of the governing classes, of secular as well as church rule, a society contaminated by sin and corruption. The ruling class is despotic and greedy, forgetting about the natural equality of people. Man through politics/the church is a symbol of everything that is wrong with our society and the system which administers it. This issue fascinates since it judges exploitations in the human society and poses the question if today, after 700 years, it is any easier to talk, or do we still whisper.
This choregie project is based on the only music-scenic work by the composer Lojze Lebič – Fauvel '86, being at times expanded by compositions from the original medieval poem Roman de Fauvel, and fragments from medieval ritual plays, literature and philosophical writings.