GLASS MASKS
sound art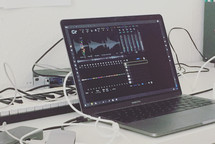 New perspectives: from choir to immersive art
expected premiere: 2022
While listening to a concert, we usually sit in front of the choir in the traditional position of the audience: the listeners in a certain seating formation, in front of them the choir in a semicircle. Glass Faces brings a different acoustic experience, as it is performed without live performers on stage. Performers are replaced by a number of speakers while conductor controls pre-recorded parts via gesture control.
With the Glass Faces project, we want the audience to experience the sound experience of a vocal music from a different perspective: they will be able to hear each performer individually, enter a specific voice section, freely choose what sound combination they want to listen to and immerse themselves in the sound of space.
The music of twenty-four recorded individual voices (parts) is played through twenty-four speakers arranged throughout the room. Each listener hears a unique blend of musical tissue; the placement of sound sources allows him to move around the space and experience an intimate connection with individual voices. Additional speakers in the space enable an experience of immersion in sound. Glass faces expose pre-recorded musical material to various modifications, through this process the basic musical material is re-explored and evaluated. This shows that works of art carry many other hidden sides, dimensions, textures and excellence, which in their original form might not have been noticed. The sound work reveals music as a changing construct. An interesting idea is that the listener can construct the sound image himself by exploring how sound physically constructs the space / scene. The viewer can choose his own movement / journey through this acoustic architecture. The speakers are placed around the room so that the listener really feels the inner construction of the musical work. He hears how sound moves from one voice to another, how musical thought travels between individual voices, sections of voices, and how sound responds to space. By placing the listener in different positions in the space, it gives him the experience of listening to each individual part and united voices - the choir.