DERT album
experimental recording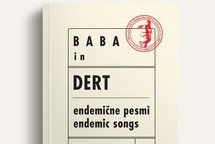 DERT - a full album of choir music entirely recorded on smartphones
music: Tellu Turkka
texts: Karmina Šilec
performed by: CHOREGIE New Music Theatre
The DERT endemic songs project was created entirely during the rule of the coronavirus. In the midst of the mighty unmanageable natural forces, as an expression of human creativity and power, music came in.Human, or even more than just 'human', it worked in this anxious time as we helplessly watched the stagnation of the whole world. Music as a guarantee of the meaning of the world brought to the brink of disaster. We absorbed the sounds and our thoughts drifted away from fear and loneliness, and recalled the beauty of our previous lives.
The rehearsals were conducted at home, individually, occasionally online. The performers used smartphones to record their own sections of the work-in-progress at home, which we later stitched together into the present recordings.
Human behavior is dictated not only by the living conditions, but also by the decisions a person makes. In different circumstances, in the most favorable or in the most difficult ones, we remain different. But in extreme conditions much more is revealed. In the way we respond, we always remain free. When our lives seem to start losing their former meaning – which can happen to anyone – we all wonder where this void comes from and what can fill it for us. Man is just a being who lives for someone and/or something.
That is why this album is a remarkable document of this special period, dedication and focus of singers. The recordings we created gave sound to the mysterious power and spirit of the music, captured the lost moments in time, drove away the gloom, uncertainty and fear. They are a testament to this time.