DERT
concert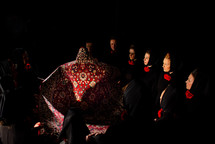 Photo: sintija habjanič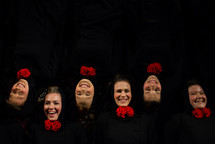 Photo: sintija habjanič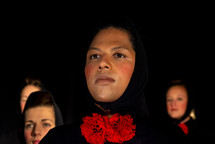 Photo: sintija habjanič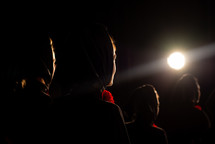 Photo: sintija habjanič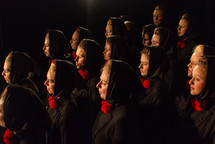 Photo: sintija habjanič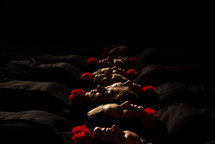 Photo: sintija habjanič
*world premiere
Music by: Tellu Turrka
Texts by: Karmina Šilec
performed by: CHOREGIE – new music theatre
We share habitats and habituses with the heroines of DERT in extended time through the experience of touching and overlapping on some edges, and thus creating a secret commitment to belonging – the same coordinates, sometimes the same codes. We belong to what we understand, both present and absent. They are our rearview mirror – everything seems to be close here and far behind simultaneously. Real and unreal at the same time.
DERT is a canvas on which the contents of the consciousness of our society, its fears, beliefs, doubts, states, questions, problems, pleasures, the history and the present, behaviors and nonsense, desires are projected.
DERT is also reminiscent of a deadacholicsocial narrow-mindedness that condemns every step and every action; it sang the last praises to the heroines with a vocabulary adorned with wonderful notions such as tradition, family, heroism, chastity..., and hid behind them primitivism, mythomania, misogyny.
It reminds us of who created and buried the heroines – sworn virgins, virdžinas – Liljana, Suni, Lindita.
The DERT project was created entirely during the rule of the coronavirus and is unique experiment. The rehearsals were conducted at home, individually, occasionally online. The performers used smartphones to record their own sections, which we later stitched together into the present album.That is why this album is a remarkable document of this special period, dedication and focus of singers. The recordings we created gave sound to the mysterious power and spirit of the music, captured the lost moments in time, drove away the gloom, uncertainty and fear. Above all they are a testament to this time.
The shocking sound of endemic songs... Despite the cold space, the singers performed their task superbly: as always precise both in intonation as well as technically, with clearly shaped phrasing and articulation, with interpretive depth, vocally flexible and penetrating. The songs were sung with expressivness - dressed in unique, at times archaic but still harmonious sonority - and spread with horrifying beauty over stones and cold walls of the karst underground. The atmosphere in the hall fitted the shocking lyrics and created a special ecstasy. Drops of water, which gently crept from the stalactites and struck the stone base, strengthened the mystery of audio and literary messages ... (Odzven / SIGIC)
SONGS FROM AFAR / Daljne pesmi
GLASS MASKS / Stekleni obrazi
ANCIENT VOCABULARIES / Starodavna besedišča
STEALING LIFE OF FATHER / Kradljivka očetovega življenja
POETIC GALAXIES / Poetične galaksije
PLEASURES OF TOUCH / Ugodja dotikov
LAST RITE / Poslednji obred
UP AGAIN / Predramljena
INCANTATIONS/ Zarotive
HEAVEN / Raj
COFFEES / Kofeti
production: Carmina Slovenica, 2021, Union Hall