Vertical Thoughts
Parallel realities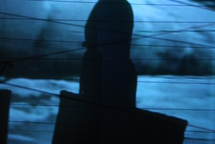 Photo: Dorian Šilec Petek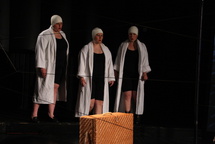 Photo: Dorian Šilec Petek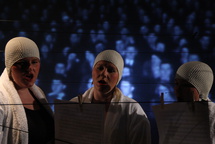 Photo: Dorian Šilec Petek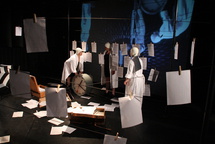 Photo: Dorian Šilec Petek
Audio-visual performance
The audio-visual project Vertical Thoughts is based on concept by Karmina Šilec, visual design and direction by Jaka Ivanc. Inspiration for the performance came from Morton Feldman's work Three Voices, based on Frank O'Hara's poem Wind. A minimalist current of music is joined by the culture of the eye – as an active visual action. Vertical thoughts are observations of repetitions of the past. We see them as parallel realities. Distinctions between live and dead sounds, live and dead time are blurred. Floating of time and its infinite repetitions on the waterfront and captivity of snowflakes in a snow glass ball.
Music: Morton Feldman: Three Voices
Text: Frank O' Hara: Wind
Performed by: Ensemble !Kebataola!
Concept: Karmina Šilec
Direction: Jaka Ivanc
Video: Jaka Ivanc, Jaka Varmuž
Premiere: 2010, Choregie aka Choregie, Slovene National Theatre Maribor