Toxic Psalms
Ultimate collective experience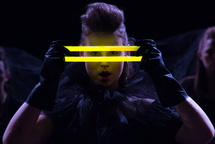 Photo: Dorian Šilec Petek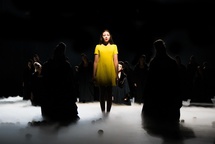 Photo: Dorian Šilec Petek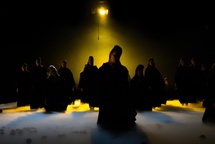 Photo: Dorian Šilec Petek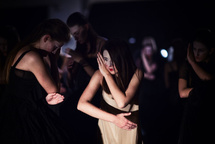 Photo: Rudi Uran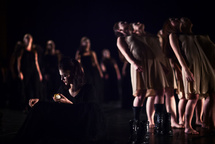 Photo: Rudi Uran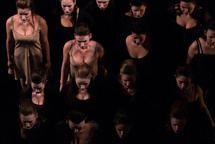 Photo: Dorian Šilec Petek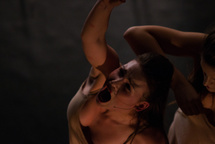 Photo: Dorian Šilec Petek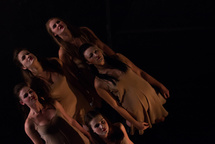 Photo: Dorian Šilec Petek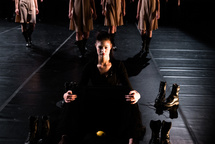 Photo: Dorian Šilec Petek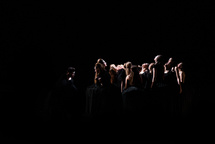 Photo: Dorian Šilec Petek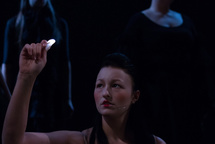 Photo: Dorian Šilec Petek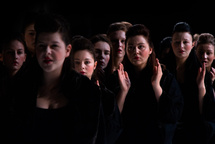 Photo: Dorian Šilec Petek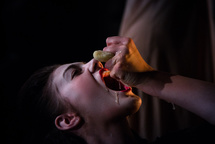 Photo: Dorian Šilec Petek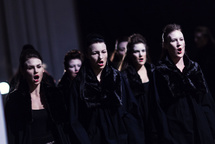 Photo: Rudi Uran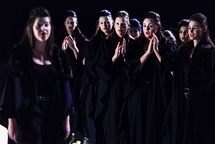 Photo: Rudi Uran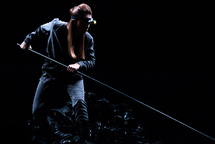 Photo: Dorian Šilec Petek
Photo: Dorian Šilec Petek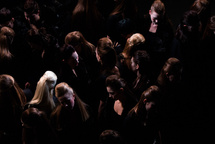 Photo: Dorian Šilec Petek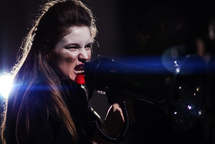 Photo: Rudi Uran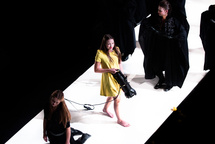 Photo: Dorian Šilec Petek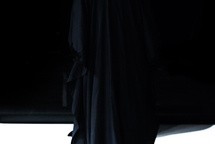 Photo: Dorian Šilec Petek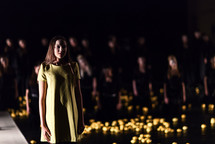 Photo: Photo: Rudi Uran
Stage performance
Toxic Psalms are a reflection of the spiritual anguish of today.
The word "toxic" derives from the Greek Toxon (meaning weapon, bow), while the word "psalm" derives from Psallein, meaning 'playing' (an instrument) as well as "to snatch", "steal" or "remove". Toxic Psalms metaphorically mean to draw a poisonous bow which is being played on in gloria to 'move something away' – tense psalms that are about to be released.
At the centre of the project is the shaman idea: everyone and everything that man creates can be turned against him if used without respect for life. To have control over something matterless, we control it with the knowledge about it and so gain power over it. The almost sinister thought "I'll tell you. You're young, but you're one of us, and I'm one of us, so I'll tell you." gives Toxic Psalms its tone. Death speaks and murderous plague intones in the background of the whole concert arch.
Scenes move between different spiritual worlds of the past and the present. The setting is an imaginary world moving among the shadows of our ancestors and is a reflection of modernity at the same time. Toxic Psalms are a reflection of the spiritual anguish of today. Through music the project reflects Palestine, Syria weapons, concentration camps, blood feuds, extinctions, contaminations of religions, and creates a reflection of human brutality. The life of a man is changed into a drama here and now: men killing for the glory of their psalms. The author's poise is not one of an agitator – stirring the feeling that "something has to be done" – it is rigorously contemplative. Despite this "detachment", the violence in Toxic Psalms is politically stressed and religiously marked. Religion is one of the main reasons for murderous violence in the world. But true morality requires from us to accept full responsibility for our actions without hiding behind the figure of the big Other and to accept full responsibility for actions without hiding in the anonymity of a group.
Music: Jacob Cooper, Bronius Kutavičius, Karin Rehnqvist, Liga Celma, John Pamintuan, Tellu Virkkalla, Veljo Tormis, Lojze Lebič, Boaz Avni, Sergei Rachmaninov, Sarah Hopkins, Giovanni Battista Pergolesi, Syrian orthodox
Texts: Stanislaw Lem, Hanne Blank, Svetlana Makarovič, Hafiz, Jean-Luc Nancy, Karmina Šilec, Ifigenija Zagoričnik Simonović, Drago Jančar
Pre-recorded sounds: Marko Hatlak, Musica Cubicularis, Karmina Šilec, Willi Bopp, Danilo Ženko, Big Band of Slovenian Army Forces, Voice: Dean Santonieri
Performed by: Vocal Theatre Carmina Slovenica

Concept: Karmina Šilec
Light : Andrej Hajdinjak
Set: Karmina Šilec
Costume: Belinda Radulović
Premiere: 2015, Prototype Festival, St. Ann's Warehouse, New York
"CS creates fully produced theatrical productions and events that utilize scenic, costume, lighting. sound, and video design to create a genre all their own. The choristers have been highly trained in musicianship, vocal technique, and performance practices. The production involved highly stage and complex choreographed moves for the chorus, which they executed with pristine precision withough Karmina conducting. The performance aesthetic could be linked to Pina Bausch and has a distinctive Eastern European flavor, frequenltly exploring topics of concern to women. (Beth Morrison, the creative producec of Beth Morrison Projects)