Rusalki
Songs of dark laughter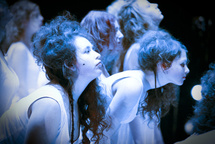 Photo: Dejan Bulut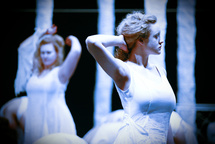 Photo: Dejan Bulut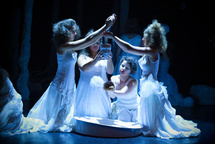 Photo: Dejan Bulut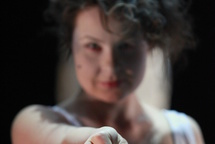 Photo: Dejan Bulut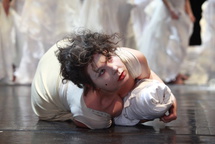 Photo: Dejan Bulut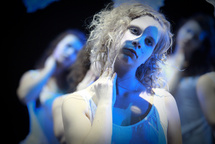 Photo: Dejan Bulut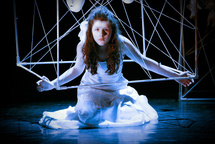 Photo: Dejan Bulut
Photo: Dejan Bulut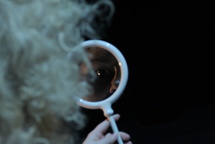 Photo: Dejan Bulut
Stage performance
Rusalki: between worlds, between death and the dead. This rich archetypal tradition, linked to the character of Rusalki from Slavic mythology, was an inspiration for the creation – based on legends, songs and rituals – of the scenic ritual.
Restless souls of Rusalki, miraculous female characters as symbols of potent, not yet realised female creativity; weavers of natural cycles and erotic primordial bonds between man and nature are the main protagonists of this non-narrative music theatre.
"Songs of dark laughter" in archetypal adventure, in a ritual beyond the limits of reason are metaphysics of the good and the evil.
Scenery inspiration comes from the ancient Greek treasury, songs "from soil and water", "screams, cries, laughter and songs" are based on traditional Slavic melodies and modern works of music.
Music: Urška Pompe, Vasko Atanasovski, Slavko Ludvik Šuklar, Izidor Leitinger, Herman Rechberger, Iva Bittova, Karmina Šilec, tradtitonal chants from Gerogia, Bolgaria,Ukraine and Moravia
Poetry: Svetlana Makarovič, Erika Vouk, Ifigenija Zagoričnik Simonović
Performed by:
Vocal Theatre Carmina Slovenica
Vasko Atanasovski, wind instruments
Nino Mureškič, percussion
Zvezdana Novaković, voice
Concept: Karmina Šilec
Light: Andrej Hajdinjak
Set: Karmina Šilec
Movement: Tina Valentan
Costume: Belinda Radulović
Premiere: 2010, Španski borci, Ljubljana